Welcome to my
J Arthur Dixon Catalogue
Introduction
The J. Arthur Dixon printing company started up in Newport on the Isle of Wight in the 1930s and continued until it was eventually absorbed into the John Hinde group of companies in 1998. Postcards were always a major part of their activities but they also produced Christmas Cards, Travel Guides and assorted other publications.
In 1956 a second factory was opened in Inverness and production there continued until the late 1970s when the factory closed.
Postcards were produced in sepia tint, hand-tinted, black & white and eventually in full colour. During the 1950's and 1960's in particular, it was possible to find Dixon's matt-finish colour postcards the length and breadth of the country and also abroad. Cards from Cyprus, Falkland Islands, Gibraltar, Jamaica & Singapore have all been advertised on Ebay in recent months although I have not seen actual examples of all of them.
This catalogue is still in it's infancy, with just a few test pages uploaded. In time it will include illustrations of all back designs (with code references) and the card lists will quote those codes so that the many versions of each card can be satisfactorily identified. As there seems nowhere to obtain information other than from my own collection the only cards listed are those that I have actually seen myself. Any contributions to johncrabbe at yahoo.com would be welcomed.
---
The Back Designs - sepia card series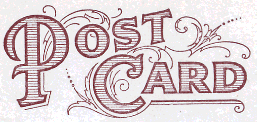 ---
The Back Designs - hand-tinted card series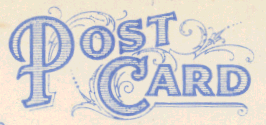 ---
The Back Designs - black & white card series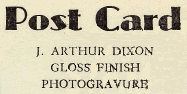 ---
The Back Designs - full colour card series
Within this catalogue the layout of the back of these cards is identified in the main by the style of logo that appears at the centre-top of the card. Appended to this is a coded note referring to any variations that may appear elsewhere on the card while the logo stays constant.
Broadly speaking, these main categories are as follows (shown at approximately twice actual size, unless whole cards when half size) and in due course each type will link to a table of variations :-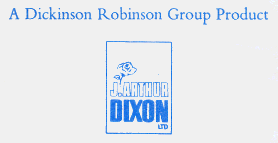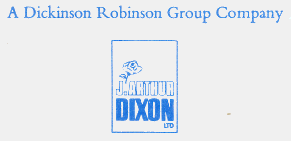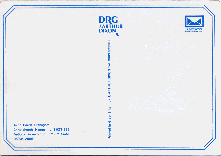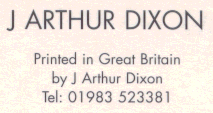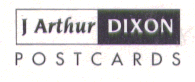 ---
The Catalogue Sequencing
Almost all Dixon cards bear an identifying reference, usually in the lower left-hand corner of the back. A few are blank, some very old cards have the number elsewhere.
This reference comprises up to three parts - an optional prefix (alpha or alphanumeric) - a number - an optional suffix (alpha or alphanumeric)
The Prefix - when present this either describes the size of the card (eg: L6 or L1), clearly identifies the location of the subject, or takes the form of a three character abbreviation indicating the County in which the card subject is located or, less often, a special series code. See the list of known codes below.
The Number - in the range 1 to 99,999. Generally speaking, apart from the early years of coloured cards, these numbers are unique. Unfortunately this is not always the case and the same number might have been used for different cards printed in Scotland & the Isle of Wight - or possibly just carelessly duplicated at one factory. This catalogue uses these numbers for it's primary sequencing and the prefix/suffix for secondary sorting.
The Suffix - can be a simple as "G" indicating glossy finish on the picture side, a location name (or abbreviated name) or a sequence within a particular series.
---
Known Prefix Codes
KBP Collectacard set 1 – British Birds of Prey
KFB Collectacard set 5 – Familiar British Birds
KME Collectacard set 9 – Vintage Steam - LNER
KMG Collectacard set 6 – Vintage Steam - GWR
KML Collectacard set 8 – Vintage Steam - LMS
KMN Collectacard set 10 – Vintage Steam - Scottish
KMS Collectacard set 7 – Vintage Steam - SR
KSB Collectacard set 4 – Sea & Shore Birds of Britain
KSL Collectacard set 3 – British Steam Locomotives
KSS Collectacard set 11 – World of the Seashore
KWA Collectacard set 2 – Wild Animals of Britain
KWG Collectacard set 12 – British Wild Flowers (2)
L1/PIN Inverness-shire (unusually a size 3 card, not size 1)
L1/SP Normally indicates a size 1 card - general subject
L6/PCO Cornwall
L6/PCU Cumberland
L6/PGE Recipes
L6/PHA Hampshire
L6/PLO London
L6/PNA Aircraft
L6/POX Oxfordshire
L6/PSD South Devon
L6/PTS Transport (Steam)
L6/PWE Westmorland
L6/PWI Wiltshire
L6/PWO Worcestershire
L6/PYD Yorkshire Dales
L6/SP Indicates a size 3 card - general subject
PAB Aberdeenshire
PAR Argyllshire
PAV Avon
PAY Ayrshire
PBK Berkshire
PBR Bristol
PCO Cornwall
PCU Cumberland
PCU Cumbria
PCV Caernarvonshire
PCY City of York
PDF Dyfed
PDO Dorset
PDT Dunbartonshire
PED Edinburgh
PFC Football Clubs
PFL Flowers
PGD Gwynedd
PGL Gloucestershire
PGT Gwent
PHA Hampshire
PHE Herefordshire
PHU Humour
PIN Inverness-shire
PIW Isle of Wight
PKU Kirkcudbright
PLI Lincolnshire
PLO London
PLW Llangollen, Clwyd, Wales
PMX Middlesex
PNA Aircraft
PND North Devon
PNO Northumberland
POX Oxfordshire
PPR Perthshire
PPT Pets
PPY Powys
PRF Royal Family
PRO Ross-shire
PSC Caithness
PSD South Devon
PSM Somerset
PSO Scotland - general
PSR Surrey
PSX Sussex
PTG Stirlingshire
PTS Transport (Steam)
PTV Thames Valley
PWE Westmorland
PWI Wiltshire
PWL Wild Life
PWO Worcestershire
PWT Welsh Tourism
PYD Yorkshire Dales
SP General subject
---
Index to Catalogue Sections
The cards can be divided into 4 main historic groups and these are reflected in the catalogue layout :-
Sepia tinted – usually matt finish.
Hand-tinted – usually matt finish.
Black and white – usually gloss finish.
Coloured – can be matt, silk or gloss finish (a batch of 65 illustrating steam locomotives in black & white was also produced in this latter period).
Generally speaking coloured cards can be found in the following sizes :-
140 x 89 mm (sometimes with perforation marks at top, bottom or both from multi-view sets).
145 x 98 mm.
148 x 105 mm (known as a "Post Office preferred" size).
140 x 102 mm (hand-tinted series only).
Panoramic.
Large.
Giant.
Number sequences in sizes 1, 2 & 3 above are generally mutually exclusive, hence they are catalogued together with a size code of 1, 2 or 3 to distinguish re-issues in differing sizes.
Several instances can be found to indicate that the prefix was the least important part of the identity - eg two identical pictures of Abingdon, numbered the same but with prefix POX or PBK as the county boundaries were amended in 1974 and the town was reassigned from Oxfordshire to Buckinghamshire.
To allow download times to be kept to a reasonable length the catalogue is divided into sections. For now the following pages are present :-
---
Sepia tinted cards
---
Hand-tinted cards
---
Black & White cards
Glossy black & white cards (1 so far)
---
Coloured cards
(the abbreviation CPJADS is used to save download time and means "Colour Photograph by the J Arthur Dixon Studios")
Cards without reference numbers (26 so far - alphabetic place order)
Cards in the range 1-999 (691 so far)
Cards in the range 1000-1999 (305 so far)
Cards in the range 2000-2999 (342 so far)
Cards in the range 3000-3999 (486 so far)
Cards in the range 4000-4999 (293 so far)
Cards in the range 5000-5999 (169 so far)
Cards in the range 6000-6999 (289 so far)
Cards in the range 7000-7999 (153 so far)
Cards in the range 8000-8999 (42 so far)
Cards in the range 9000-9999 (16 so far)
Cards in the range 10000-10999 (32 so far)
Cards in the range 11000-11999 (21 so far)
Cards in the range 12000-12999 (2 so far)
Cards in the range 21000-21999 (243 so far)
Cards in the range 23000-23999 (373 so far)
Cards in the range 30000-30999 (13 so far)
Cards in the range 40000-40999 (8 so far)
Cards in the range 41000-41999 (20 so far)
Cards in the range 42000-42999 (3 so far)
Cards in the range 43000-43999 (5 so far)
Cards in the range 80000-80999 (81 so far)
Cards in the range 81000-81999 (87 so far)
Cards in the range 82000-82999 (66 so far)
Cards in the range 83000-83999 (72 so far)
---
This page last amended 20th March 2008
© copyright 2008 John Crabbe

---